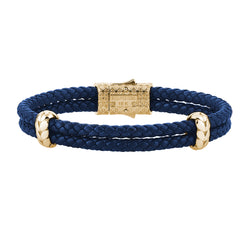 Atolyestone Elements - Solid Yellow Gold
Atolyestone Elements is a bracelet that adds character and interest to your wrist. This minimalist piece wraps around your wrist elegantly with two lines. Handmade with the finest braided leather and finished off with soldi yellow gold which is engraved with Atolyestone's prestigious signature. 
4mm Premium Nappa Leather
Solid Yellow Gold fine jewelry goods
(Hallmarked at the Goldsmiths Company Assay Office in London)
Pusher Clasp
100% Handmade in England
This product comes with the Certificate of Authentication and with Majestic Atolyestone Jewellery Box
Custom Made : Dispatching 5 - 8 Business Days
If it is for a special day and you need it earlier than our estimated dispatch times, please let us know and we will try to meet your requirements to the best of our abilities
FREE WORLDWIDE SHIPPING
We offer free priority shipping worldwide, All international
and domestic orders will be fulfilled by DHL.
-UK 2-5 Business days
-USA 3-5  Business days
-EU countries 3-6 Business days
-Gulf countries 3-6 Business days,
-Canada 3-6 Business days
-Rest of world 3-7 Business days 
for more info .
TRY US RISK - FREE
We guarantee to refund or exchange. We offer free returns for items send back within 30 days.
| Tight Wrist Measurement | Bracelet Size |
| --- | --- |
| 6.30-6.65" | Small |
| 6.70-7.10" | Medium |
| 7.15-7.70" | Large |
*One Size Fits All - Fits on all wrists between 6.30" - 8.25"
*For any size smaller or larger than the ones provided above, please contact us
| Tight Wrist Measurement | Bracelet Size |
| --- | --- |
| 16.0-16.90 cm | Small |
| 17.0-18.0 cm | Medium |
| 18.10-19.50 cm | Large |
*One Size Fits All - Fits on all wrists between 16.00 cm - 21.0 cm
*For any size smaller or larger than the ones provided above, please contact us
Complementary Engraving
Make it special. Give your message with our free engraving service. Whether words, symbols, or numbers we can engrave your desired message to your chosen jewelry. Simply include your message to the "Add Order Note" box at the bottom of your shopping cart page.
All Sizes Available On Demand
Size Customization: Bracelets of every size can be produced in our ateliers. Just let us know what your size is and we will have it custom made for you. 
Customise Your Gemstone
Different Gemstones: We use CZ as the default stone in our silver bracelets while using genuine black diamonds for our solid gold bracelets. You can
personalise your bracelet by having ruby, emerald or white diamond instead of our default models, should you wish to do so.
Endless Colours
A range of nappa leather & string choices are available upon request. If you would like to view our selection of more than 10 nappa leathers, please contact us.
Personal Message
All orders can be accompanied by a special message to the recipient with our lovely stylish envelope.


Your Creativity is the Limit
If you have something more specific in mind , we can create any custom made item for you.
Simply get in touch with us with your design ideas. 
Customer Reviews
extraordinary fast service nad great quality
Once again, atolyestone has proven themselves to be a top-of-the-field quality product. This one is perhaps my favorite, but it's subtle in its color, which I love. And it won't be my last. I've got my eyes on a few others. It stacks beautifully with my other ones. You won't be disappointed!
Such beautifully unique!
I've placed 8 other orders with Atolyestone and am always impressed with the ease of ordering and fast delivery.
my first atolyestone bracelet
The product is of high quality, nice to wear, fits perfectly. The ordering and delivery process went as expected. More than satisfied.