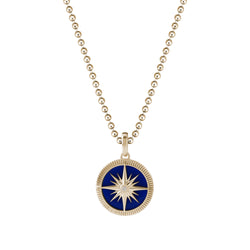 Ocean Compass Pendant in Gold
Introducing the Ocean Compass Pendant – a symbol of navigational elegance for the modern voyager. Impeccably designed in solid gold, it captures the spirit of adventure with a blue lacquer compass against a gleaming backdrop, evoking boundless horizons. A statement of refined taste and relentless pursuit, this pendant embodies timeless luxury.
10K, 14K and 18K Solid Gold fine jewelry.

0.06 Carat Black Diamond, White Diamond or Cubic Zirconia
Classic Blue lacquer finished

Pendant, 22mm diameter

Thickness, 3.80mm

100% Handmade

This product comes with the Certificate of Authentication and with Iconic Atolyestone Jewellery Box
FREE WORLDWIDE SHIPPING
We offer free priority shipping worldwide, All international
and domestic orders will be fulfilled by DHL.
-UK 2-5 Business days
-USA 3-5  Business days
-EU countries 3-6 Business days
-Gulf countries 3-6 Business days,
-Canada 3-6 Business days
-Rest of world 3-7 Business days 
for more info .
TRY US RISK - FREE
We guarantee to refund or exchange. We offer extended free returns until 7 January 2024
Complementary Engraving
Make it special. Give your message with our free engraving service. Whether words, symbols, or numbers we can engrave your desired message to your chosen jewelry. Simply include your message to the "Add Order Note" box at the bottom of your shopping cart page.
All Sizes Available On Demand
Size Customization: Bracelets of every size can be produced in our ateliers. Just let us know what your size is and we will have it custom made for you. 
Customise Your Gemstone
Different Gemstones: We use CZ as the default stone in our silver bracelets while using genuine black diamonds for our solid gold bracelets. You can
personalise your bracelet by having ruby, emerald or white diamond instead of our default models, should you wish to do so.
Endless Colours
A range of nappa leather & string choices are available upon request. If you would like to view our selection of more than 10 nappa leathers, please contact us.
Personal Message
All orders can be accompanied by a special message to the recipient with our lovely stylish envelope.


Your Creativity is the Limit
If you have something more specific in mind , we can create any custom made item for you.
Simply get in touch with us with your design ideas.