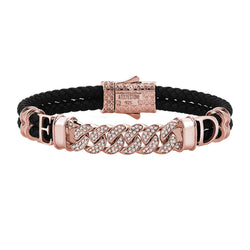 Statement Cuban Links Leather Bracelets
Atolyestone Cuban links leather bracelet
A uniquely detailed design handcrafted by the masters. Meticulously created (heavy gold plated) 925 sterling silver combined with nappa leather for the marvellous look and finished with a considerate touch for an easy wear.This luxury divine design is an elusive addition to your outfit making it a great combination for both casual and smart casual looks
Sterling Silver fine jewelry goods
4mm Premium Nappa Leather
Pusher Clasp
Iconic Atolyestone Gift Box
Custom Made : Dispatching 5 - 8 Business Day
If it is for a special day and you need it earlier than our estimated dispatch times, please let us know and we will try to meet your requirements to the best of our abilities. Please note that custom made items cannot be refunded as they are made specifically at your request.
FREE WORLDWIDE SHIPPING
We offer free priority shipping worldwide, All international
and domestic orders will be fulfilled by DHL.
-UK 2-5 Business days
-USA 3-5  Business days
-EU countries 3-6 Business days
-Gulf countries 3-6 Business days,
-Canada 3-6 Business days
-Rest of world 3-7 Business days 
for more info .
TRY US RISK - FREE
We guarantee to refund or exchange. We offer extended free returns until 7 January 2024
| Tight Wrist Measurement | Bracelet Size |
| --- | --- |
| 6.30-6.65" | Small |
| 6.70-7.10" | Medium |
| 7.15-7.70" | Large |
*One Size Fits All - Fits on all wrists between 6.30" - 8.25"
*For any size smaller or larger than the ones provided above, please contact us
| Tight Wrist Measurement | Bracelet Size |
| --- | --- |
| 16.0-16.90 cm | Small |
| 17.0-18.0 cm | Medium |
| 18.10-19.50 cm | Large |
*One Size Fits All - Fits on all wrists between 16.00 cm - 21.0 cm
*For any size smaller or larger than the ones provided above, please contact us
Complementary Engraving
Make it special. Give your message with our free engraving service. Whether words, symbols, or numbers we can engrave your desired message to your chosen jewelry. Simply include your message to the "Add Order Note" box at the bottom of your shopping cart page.
All Sizes Available On Demand
Size Customization: Bracelets of every size can be produced in our ateliers. Just let us know what your size is and we will have it custom made for you. 
Customise Your Gemstone
Different Gemstones: We use CZ as the default stone in our silver bracelets while using genuine black diamonds for our solid gold bracelets. You can
personalise your bracelet by having ruby, emerald or white diamond instead of our default models, should you wish to do so.
Endless Colours
A range of nappa leather & string choices are available upon request. If you would like to view our selection of more than 10 nappa leathers, please contact us.
Personal Message
All orders can be accompanied by a special message to the recipient with our lovely stylish envelope.


Your Creativity is the Limit
If you have something more specific in mind , we can create any custom made item for you.
Simply get in touch with us with your design ideas. 
Customer Reviews
02/17/2021
Wayne M.

United States
Quality piece but a bit pricey
This bracelet is nice and looks very much like the photo, although the rose gold has a bit of pinkish hue than what is pictured. I prefer a more coppery, darker looking rose gold. One nitpick is that the jeweled pieces attached to the bracelet that start the links on either side don't lay flat like the others—they twist out a bit. Packaging and presentation were really nice. I just feel like for what it is, the cost is a bit much.
Love my bracelet
The bracelet was perfect in every way. First of all the fit was perfect. Second, the quality and looks were beyond my expectations. I will continue to buy your products and recommend them to everyone I know. Your customer service was exceptional as well.
Excellent
I ordered from Atolyestone for the first time and I am very pleased with everything. The quality of the product, excellent customer service, fast delivery. My first impression and overall experience was excellent. I will definitely recommend this company and will make additional purchases in the future. Thank you!